Enter forum description here ...
I need to be able to perform an "ID" with a 20ºC value of 2BF. How can I do it

Hi everyone.
I need help from you guys.
As anyone had the need to do a math calculation in the last second of each month?

My idea is to present the client with the difference between this month energy consumption comparing to the last month.

The math is easy, my problem is with the trigger, because we have months with 29 or 30 or 31 days.
So I need to do the calculation ( Double = Thismonthcount - Previousmonthcount ) in the last second of each month.
Thanks for the help.

Hi,
Something weird is happening with the graphs.
I have 8 HVAC zones with an analog log for set temperatura and another one for room temperature each. Well, I've added to the visualization a data logger (opengraph button) for every zone and added to it the 2 analog logs.
Everything was fine with the first 6 zones. 7th and 8th zones only work fine if I add to the graph only one log. If i add a second log to it, a error shows when I try to open the graph in the visualization. Then I open the graph in the config and one of the two logs is missing, showing the first one and another one with the "Building" node (see image attached).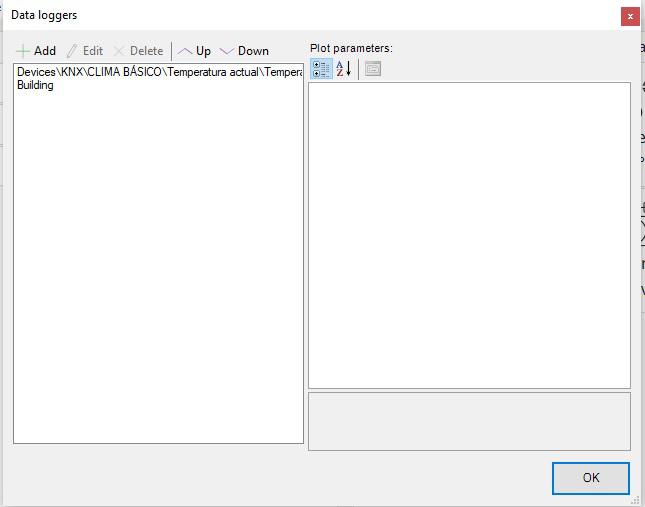 Is this only happening to me?
Thanks in advance.
Best regards,
Are there any alarm handler task?
BR
Per-Åke
Hi there! In the very lasts updates of bOS Config, I've found a problem by adding the Movement Detector task. It shows me the red circle of problem, but it's still empy, every field is not filled and there's no error, so I don't know why it happens.
Actually, when I click the errors, it shows me
Tasks\Movement Detector ([Error]Disabled)
but I don't know what it means.
Is there any way to remove the error? Thank you!!
hello I have made an analog log with a datapoint 13001 (total power consumed) and another one analog log with a datapoint 14000 (active power).
My client has asked me to change the two graphs to counter log. But I tried to make the change in many ways and the same values ​​received are not represented

Can you help me?

I would like to run a program every ten minutes (not a device)
Creating a scheduler with 24*6 time seems not very smart
hi
i tried to use your task for irrigation.... no matter with low temperature thresold, while max precipitation thresold doesn't work fine.
Setting the thresold value upper or lower then its input value there is no change of status.
it seems like the input value doesn't update or threre is a failure while reading datalogger values.
For examples if the input value is precipitation last 24 h ( value 2.6 h) thresold becomes false only with 18 h thresold
(no hysteresis is set)
regards
It'd be very useful to have the chance of setting abort triggers for programs, as there are stop triggers in timers.
Thank you very much!!
Hey,

Is it possible to export mbus values to excel or pdf automatically? What i would like to do is: make a program that exports current mbus-modbus tcp values on the first day of the month every month to a excel table.
Has anyone done this?