Questions

Michiel Kenis
3 years ago
in
Devices / Modbus
•
updated

2 years ago

•
9
Hi, 
I'm reading values from my SunnyBoy SMA Inverter to shown the yield of my solarpanels in my bOS. 
I successfully connect to my SMA with below values: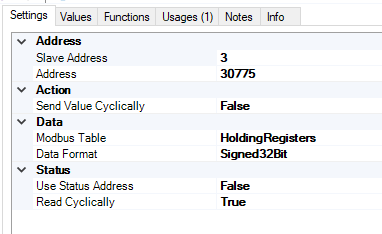 It goes just fine as long as the sun is shining. Once the sun drops, the NaN value takes it's place and gives me the 
-2147483648 value; When plotting my daily yield, the few actual kw (max. 14 kW) vanishes compared to this ridiculous high value. Is there any way to prevent this kind of spikes? 
I've tried adding a new integer value which is set with a Program and corrected to 0 when the value drops below 0, but this still doesn't works out... Is there another SMA user suffering from the same? 
Best, 
Michiel